A trend here in BlogLand is writing themed posts for the day.
Some of my fave blogs have themes such as "It's OK Thursday" or "Speechless Sunday" or "Three Things Thursday", etc...
Today? I'm jumping on the bandwagon with "What I Ate Wednesday" and linking up with my girl
Jenn
on this one.
*And through her post, I found another blogger named
Jenn from Peas and Crayons
and linked up with her, as well!*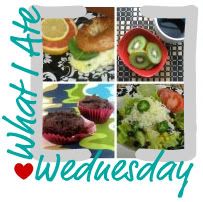 I usually don't do themed posts because my writing style is more "free spirited" so to speak- I have a hard time fitting my thoughts into certain criteria and usually end up saying "screw it" and write whatever I want anyway.
It's one of my fave things about blogging- I write about whatever I want, whenever I want! And of course try to make it interesting to my readers. I'm all about engagement, yo!
Moving right along...
You remember
these Pumpkin Pancakes
? Well, I had some left over pumpkin and left over Chobani 0% Vanilla Yogurt. And left over Cool Whip (hello! I wasn't about to let my husband eat the entire container!).
So I decided to make a dip! A co-worker of mine brought in a Pumpkin Dip the other week and hers was delish! She used cream cheese, powdered sugar, Cool Whip, pumpkin, and related spices.
I decided to try my hand at it and see if I can make a version that was GD healthy- meaning not so much sugar and sneak in a way to get some protein.
It was a match made in heaven using left over ingredients from those yummy pancakes!
I mixed the rest of the pumpkin (about half a can), 6oz of Chobani Vanilla Yogurt, 2tsp of cinnamon, 1tsp ginger, 1/2 tsp of cloves. Honestly I think I put too much cloves because at first it was really overpowering, but my tastebuds adapted and it came out delish!
I also scooped in the rest of the Cool Whip Lite. It's important to note that I "folded" the ingredients in so as to not break down the consistency of the yogurt.
The result? A tangy pumpkin dip- perfect with cinnamon sprinkled Wheat Thins.
I'm not sure about the nutrition information but I do know that when I ate this last night as part of my evening snack, I had perfect glucose numbers this morning!
The sweetness on the Wheat Thins blended well with the yogurt in the dip. I think next time I might make my own cinnamon toast pieces and spread this dip on top. YUMMMM!

Feel free to link up your "What I Ate Wednesday" post so we can all join in on the fun!