Oh Monday- Back so soon, are we?
I hope you all had a fabulous weekend!
Ours was pretty standard- ate, shopped, ate again, thrifted, ate some more, rearranged our apartment...
You know, pretty standard.
And yes, I now use "thrift" as a verb.
thrift (v)- To find a great deal, to shop with the intention of not paying even close to full price. Also used as thrifting and thrifted. Derived from the adjective thrifty.
There you go. Thrifted.
The highlights?
I found a $3.50 Banana Republic blazer at Goodwill.
Yes, you read that right- $3.50!! Originally marked for $7 (and can you believe I even debated that price?) but at the register it was 50% off!
SCORE!
We also found another gem this weekend, this time a food gem.
One day for lunch we ate at Aloha Salads.
The hubbs and I have never ate there before. Honestly, I wasn't in the mood for a salad but needed something healthy and with the right balance of carbs. Most salads I know of are very low carb, which is OK most of the time, but I have a range I need to meet for my
Gestational Diabetes.
From it's website:
Aloha Salads has expanded since 2003, opening stores in Kahala Mall Shopping Center and Kapolei Commons Shopping Center but its core mission remains the same—to serve healthy, fresh, locally grown food of the highest quality at affordable prices. It remains dedicated to supporting local farmers and fishermen while providing its customers with the freshest, healthiest and most delicious ingredients available. Our field greens come, not by boat from the mainland, but straight from the North Shore of Oahu. Our tomatoes come ripened on the vine in Hau'ula, Hawai'i delivered by the farmer himself. Our mangoes come from a farm in Mokuleia, Hawai'i, handpicked at the perfect ripeness. Our ahi comes, always fresh, never previously frozen or injected with CO2 straight from Hawaiian waters.

Aloha Salads deeply cares about its customers' health. To that end, its signature salad dressings are made without the use of hydrogenated oils or trans fats. Instead, they are made with Canola or olive oils. Even its breads are made without the use of such oils. Their sandwich breads are made with extra virgin olive oil and nutrient powerhouses like flax seeds. The pita bread is entirely fat and sugar free.
The husband ordered a Chicken Curry Wrap. I couldn't find that item on their menu to give you all the great details but basically it's a curry chicken salad wrapped in pita bread with fresh veggies.
His verdict? It was REAL good!
I ordered the Kahuku Spinach Salad. I saw that it came with pita bread so I was happy to get some of my carbs in there. The salad included spinach, Kahuku Shrimp (grilled), avocado, egg, bacon, and tossed in their own papaya seed dressing. The shrimp tasted like it was grilled FRESH- you know when shrimp is firm and still juicy? Yeah that was the sweet spot! The shrimp had really great seasoning- kinda spicy but went so well with the rest of the salad. I thought about offering the hubbs a taste but used my better judgement!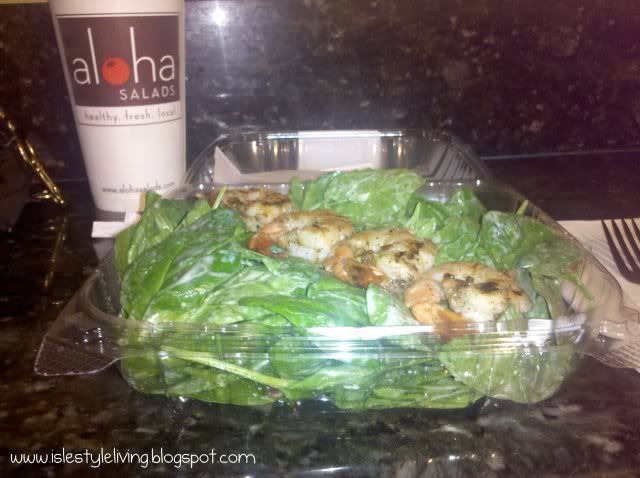 The best part of the entire meal was knowing that all the ingredients were local!
It was a bit more than we expected for salads, but hey, when you're paying for such great quality, what's a couple extra bucks?
For my salad, hubby's wrap, and 2 drinks- total was around $23.
But we were so impressed we're definitely going back soon.
There are 4 locations on Oahu (again, from their
website
)
Downtown Honolulu, Kailua Shopping Center, Kahala Mall, and Kapolei Commons.
Hope you all had a GREAT WEEKEND!!