Neely at
A Complete Waste of Makeup
is hooking up with her girl Amber for the Holiday Blog Challenge!
Challenge A
ccepted
! Some you might rememb
er the challenge I sta
rted earlier this year... and never finished (ahem).
Maybe I'll go back to that and finish it up- I hate loose ends and that challenge has been haunting me!
Anyway- I decided to take up this challenge because 1) It's only 10 days (versus 30 like the last one) and 2) it's about my favorite time of year!
Here's the complete list of topics, which I grabbed from
here:
Monday November 28th: Fave gift received EVER
Tuesday November 29th: Fave holiday tradition, new or old
Wednesday November 30th: Holiday decorations/decor
Thursday December 1st: Favorite Holiday movies/tv specials
Friday December 2nd: Ideal outfit for Christmas/NYE festivities

Monday December 5th: Christmas dessert/treat recipe
Tuesday December 6th: How do you celebrate the holidays? Hanukkah, Kwanzaa, Christmas, etc.
Wednesday December 7th: Christmas wish list
Thursday December 8th: 2012 goals/resolutions
Friday December 9th: NYE memories/pictures
Do you want to join in on the fun? Here's what you do. Add this button from A Complete Waste of Makeup, and link up your post below on my blog and at A Complete Waste of Makeup. Don't forget to spread the word to your blog readers, Twitter followers, and Facebook friends!
OK- On to the CHALLENGE!
~~~~~~~~~~~~~~~~~~~~~~~~~~~~~~~~~~~~~~~~~~~~~~~~~~~~~~~~~~~~~~~~~~~~~~
DAY 1: FAVE GIFT RECEIVED EVER
Thinking back to my 20+ Christmases, I can't really put a finger on my FAVORITE gift. I've been really blessed and received some often gifts in my days. I remember bikes, dolls, games, and books from childhood. As I got older I received beautiful jewelry from my parents and boyfriend (now husband <3). I cherish all those gifts and at one point or another, each gift was a "favorite".
So I'm going to share my most
memorable
gifts.
First up?
Super Nintendo Entertainment System
! I remember being sooooo excited when I opened this gift.
And also because my dad took FOREVER to set it up. And then he decided to "test" it out to make sure it was working, while I sat on the couch and
whined
waited patiently for my turn.
The game that was included with the system was Super Mario Paint. My best friend and I could spend HOURS on this game! There were "coloring pages", free style, a music composer (my personal fave), and a silly game where we had to swat at flying insects.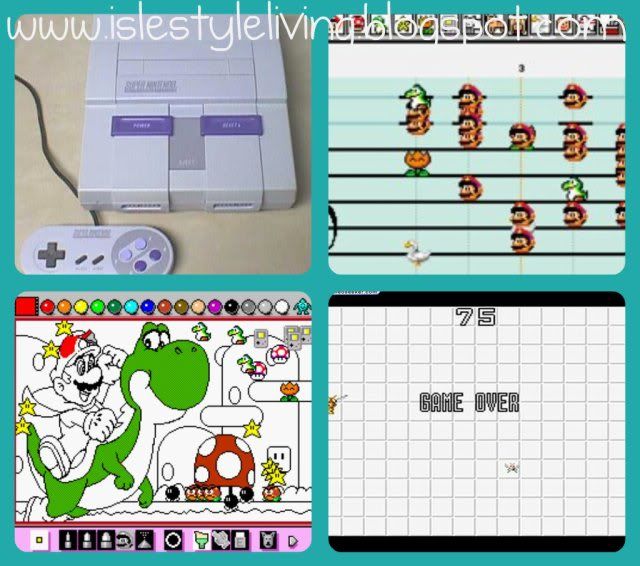 And coming in at a close second....
Our first home computer-
A Gateway 2000
!
I remember this gift because my parents wrapped each part separately! So it looked like I had a bunch of gifts under the tree but once I opened them all they all connected to our very first computer! I must have been 11 or 12 years old.
I was able to type up my own research papers and using dial-up, connect to the internet. I set up my very first email address using Hotmail (can't remember what it is now!) and even created an AOL screen name so I could chat with my friends after school.
I also remember getting in trouble because I was constantly tying up the phone line hehehehe.
What was your
favorite gift ever?
~~~~~~~~~~~~~~~~~~~~~~~~~~~~~~~~~~~~~~~~~~~~~~~~~~~~~~~~~~~~~~~
DAY 2- FAVORITE HOLIDAY TRADITION NEW OR OLD
Usually I spend Christmas with my family on Maui. Christmas Eve is usually spent at my grandparents' house with all my cousins and aunts and uncles (dad's side). There is a huge buffet spread (my grandpa, uncles, and dad are GREAT cooks!) and one of the uncles dresses up as Santa and hands out gifts to the little kids. My family will play music and sing Christmas songs in the backyard (we live in Hawaii, remember?) and eat and eat and eat until we can eat no more!
Most of the family will just end up spending the night (any spot on the floor is up for grabs!). Because my parents are divorced, I usually will then spend Christmas Day with my mom.
This year? Well, I'm looking forward to starting our own traditions. Our baby may be here by Christmas Day so we'll be busy getting adjusted to our new family. Or baby may decided to bake a little more and you may just find me stuck on the couch watching Christmas movies. Either way, this Christmas is sure to be a life changer for us and we couldn't be more excited!!
What is your
favorite holiday tradition?
Don't forget to add a link to your Holiday Challenge Blog Post: