Are you a big fan of Halloween?
Do you pour your blood, sweat, and tears into your costume?
I've never been one to get all excited about Halloween. I admire everyone else's elaborate costumes and I really think it's great when people come up with original ideas.
I, however, lack creativity in all sense of the word. I can never come up with a great costume. I don't know if I've ever put 100% effort into it, but it just never works for me.
I've been to a few Halloween parties but really the themes are not my cup of tea. I don't do scary or icky. I'm not into the club scene either so really what I'm trying to say is that I'm a huge Halloween Party Pooper.
Ironically, I won a costume award on Monday.
Yup! You read that right...
I won a freaking costume award for Halloween...whoo hoo!!!
On Monday we had a small party at work. The invite said there'd be prizes for the Scariest, Funniest, and Most Original costumes. Since I'm not a fan of dressing up and costumes in general, I ordered a shirt on line. I didn't want to be completely lame and not have any effort, so I wore my t-shirt and painted my nails.
AND WON!!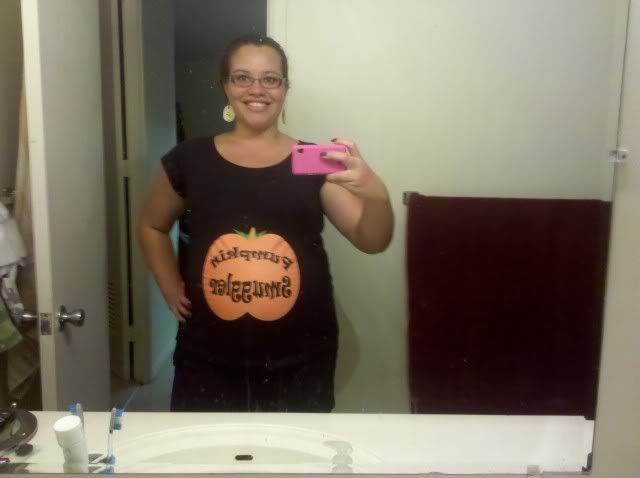 I was voted as Funniest Costume (if you can't read the words, I'm a Pumpkin Smuggler!). I painted my nails orange (which I actually didn't mind and might have kept it on during November) and added Black Crackle nail polish on top. This is what I thought it might look like (but w/ orange of course).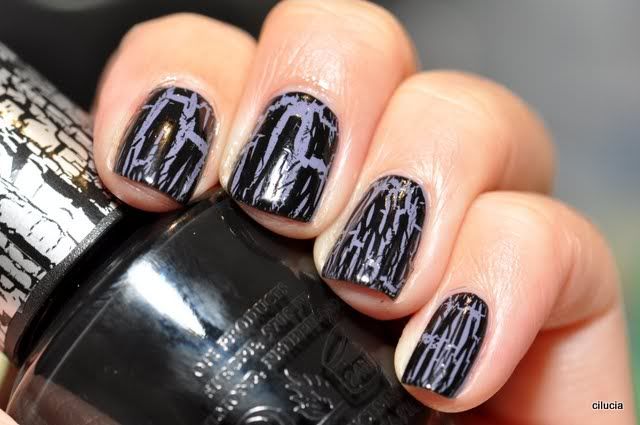 But here is what it turned out like: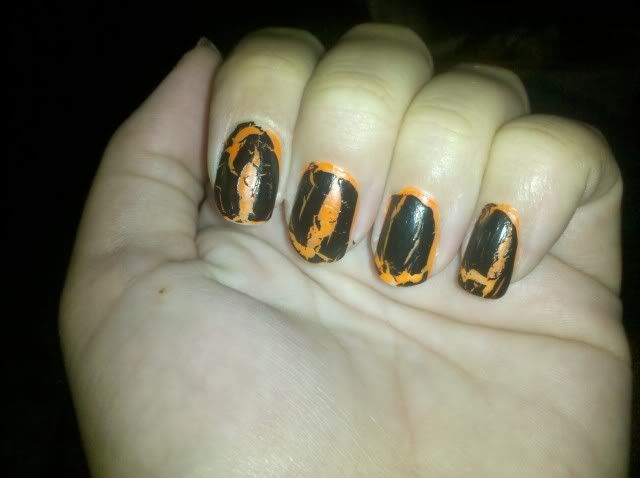 Seriously the most ugly home manicure I've ever had. I need to fire my nail lady- oh wait, that's me!
For real- people pay for this?? I'm sorry if you are drawn to this look but this is another trend that just isn't for me. I usually put a lot of effort into making sure my nails
don't
turn out this ugly.
But I still won, ugly nails and all. I guess Halloween is the one day a year it's OK to be ugly on purpose.
My prize? A box of Fiber One bars, 2 boxes of Jell-O, and a mug filled with candy. Way better than the prize for Scariest Costume who one clinical strength deodorant!!
And just for fun-
A NEW BELLY PIC (
32 weeks!)
Just for comparison, the pic on the right is me at 27 weeks. Looks like Baby has moved up and is squishing more of my organs- especially the lungs!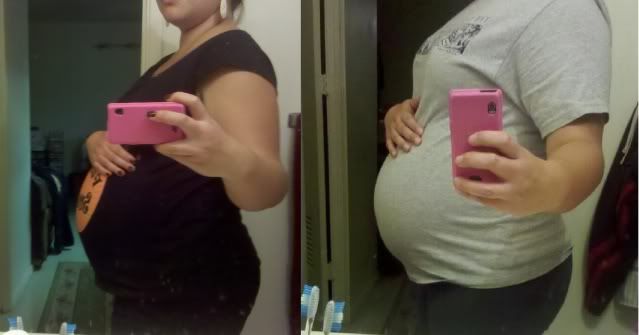 And of course I'm going to share the cutest picture I saw on Facebook- It was his first Halloween and he was Russel from the movie UP!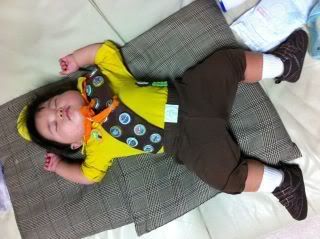 Do you dress up for Halloween? Do you like to go to parties, throw your own, or stay low-key with the trick or treaters?