Whooo hoooo! Christmas time is here! If you've read
this post
, you know that Christmas is my most favorite time of year.
Before jumping into all of that- I wanted to share a part of my Thanksgiving with you all!
One thing I look forward to during this Fall season is the food! I love love love anything pumpkin and when I saw a few bloggers posting about Pumpkin Pancakes, I knew I had to jump on the bandwagon!
The husband and I decided to have a real low key Thanksgiving this year. With the baby on its way, we wanted to enjoy our time to ourselves and really soak in the final moments of "just the two of us".
I couldn't just let the day slip away without doing something special. So I decided to try my hand at Pumpkin Pancakes.
I started out with
this recipe from Chobani.
Then I made a few modifications. The recipe calls for 12oz of Vanilla 0% Chobani Greek Yogurt. I decided to swap 6oz of yogurt for 6oz of pumpkin.
I folded 6oz of yogurt with 6 oz of pumpkin (I folded versus beat/mix to keep the texture of the yogurt) and then added one egg (whisked) and 1/2 c. of milk. Then placed the mixture on the side.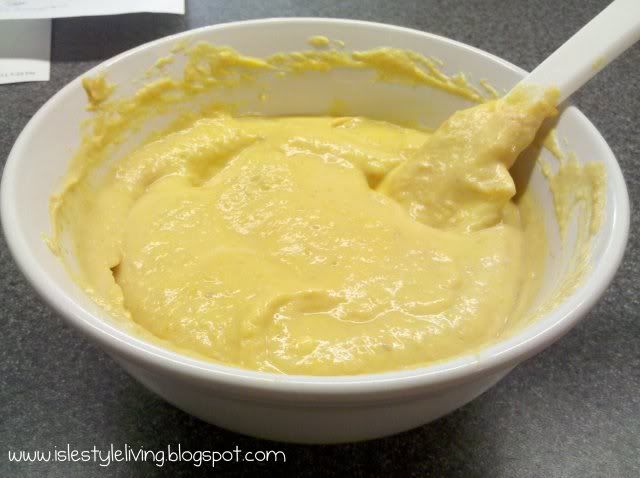 I then added all dry ingredients (according to the recipe above), and added the pumpkin spices according to the recipe on the back of the can. It called for 1 tsp. ground cinnamon, 1/2 tsp. ground ginger, and 1/4 tsp. cloves. Now this is where you can take some liberty with the recipe. When I mixed the dry ingredients together, I couldn't smell the spices. I LOVE this mixture of spices so I added 1/2 more (1/2 tsp. ground cinnamon, 1/4 tsp. ground ginger, 1/8 tsp. cloves). With the added spice the aroma smelled just perfect!
I then added the wet ingredients to the dry ingredients and it was REALLY thick. Maybe because I only used half of the yogurt? Or because I used whole wheat flour? I don't know. It was more of a muffin dough than pancake batter. So I improvised and ended up gradually adding about another 1 C. of milk, to get the desired consistency.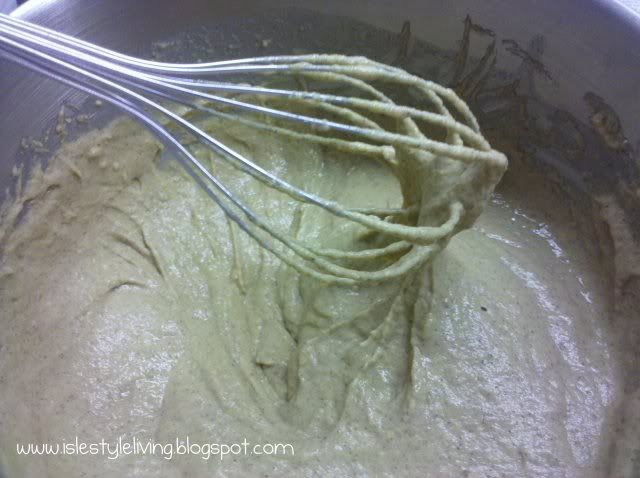 Once the consistency was at my desired point, I poured the batter into a pan on medium heat, waited until I saw consistent "bubbling" (technical term right there) and then flipped.
Topped the Pumpkin Pancakes with butter and a scoop of Cool Whip light. Served with scrambled eggs (gotta have my protein!).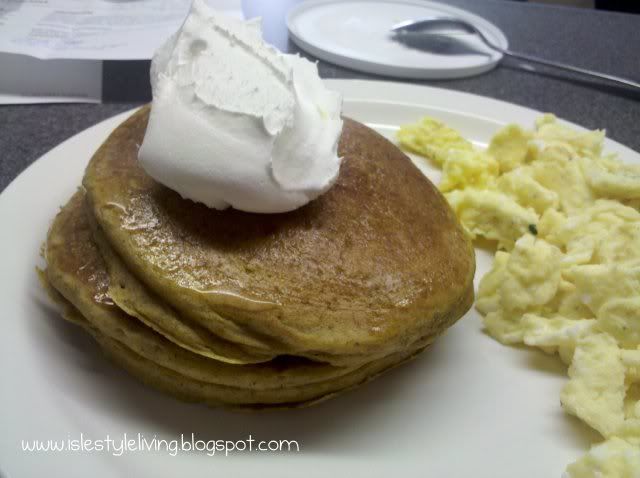 My critique on my specialty pancakes? There were OK. Changes I'd make? I'd probably add more yogurt so that the batter isn't so initially dry- and instead of Cool Whip Lite I'd use real maple syrup. I had to make some changes since I wasn't sure how this meal would affect my glucose levels. The pancakes weren't light and fluffy but more moist and dense- I attribute this to the pumpkin. Tasty (because I added more spice!) but not the consistency I was looking for.
Would I make this again? Absolutely! Now that I know what to expect and what changes to make to this recipe, it will be even better next year.
So how did this breakfast affect my glucose levels? It was high. I mean really really high. After one hour my glucose should be under 140- it was 153. I tested an hour later and should have been under 120- it was 132.
The next morning we had some leftover batter so I made smaller portions and just had one instead of two. It was still filling since the pancake was thick. And it didn't spike my glucose numbers at all!
Lesson learned- Keep the portions in line and glucose levels will be just fine!
Hope all my U.S. readers enjoyed their Thanksgiving Holiday!