IDEAL OUTFIT FOR CHRISTMAS/NYE FESTIVITIES
Another reason to love the holiday season? Dressing up!
Out here in the islands we are WAY more casual when it comes to special occasions and dressing up.
Granted most of the ladies here love to wear their pretty dresses, sparkly jewelry, and glammed up makeup when they are out on the town but when catch them at a family gathering? Everything is toned down... WAY down.
It's pretty much a guarantee that if someone showed up in sequins at one of our family gatherings the response would be 1) "Oh where are you off too? You're not staying with us?" or 2) "Why you gotta show off and be all fancy for?"
It's one of the things I miss about living in the "mainland". I could get dressed up to my hearts desire without running into someone who would ask, "Why you all fancy, huh?".
You can bet money on the fact that if I show up to a family party for NYE, I would be in jeans, a t-shirt, and a jacket (just in case it drops to the low 70s. I know. Be jealous). I would also put on make-up because I know lots of pics will be taken that night.
And probably wear pretty earrings.
But that's about it.
The night would be spent chasing after my nieces/nephews/cousins, pouring drinks for the everyone, stuffing my face, and not worrying about ruining my outfit.
But ideally?????
I would love to go to a "fancy" cocktail party hosted by friends and get all dressed up. In fact, if/when we ever move back to Maui I would love to host a cocktail party for my friends- with the request for "cocktail attire", of course! I think dressing up is fun and everyone looks so good!
So if I had somewhere to go this year, I would probably rock one of these dresses: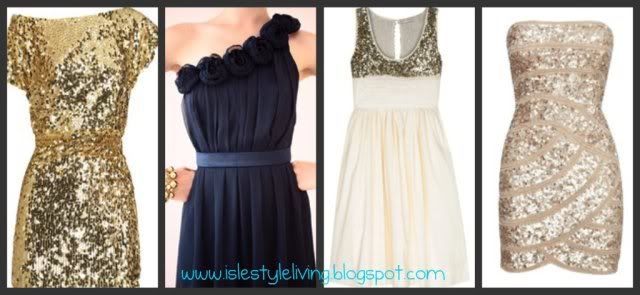 As you can tell, I love sparkles!!
And for accessories? These really caught my eye:

But for a night spent with the family? I think I'd take the jeans and t-shirt combo- it's all about comfort sometimes!
What's your ideal Christmas/NYE outfit?
If you're participating in the challenge (it's not too late to jump on in), don't forget to link up =)