Earlier this week, as most people are aware, the Victoria Secret Fashion Show aired on TV.
From my friends on Facebook and Twitter, I read a lot of mixed feedback.
Many women gave credit where credit is due-
"Wow, these women look great!"
"Look at those abs"
"WORK IT!"
and so forth and so forth...
And as many positive comments there were, there were just as many negative ones-
"Where did they find these little girls?"
"Ugh, excuse me while I throw up now"
"Great. Now I really feel insecure"
I viewed the show as a mostly inspriational. These women were beautiful! Any insecurities I felt, were not due to them being fabulous, but were due to me, not loving me.
And most of these women are either blessed with great genes and
naturally
stay thin (yes, ladies, such women do exist!) or have to work really really hard. Like Adriana Lima. I posted an article on
Facebook
where she talks about what she goes through to prepare for the show. You can read the full article
HERE.
Neither type deserve to be bashed for being "too skinny" or not looking like "real women", whatever that means.
I'm all about loving every body type. Would I love to look like a VS model one day? SURE! But I know my body type and it's not likely that I'm going to grow about 5 inches in height and lose 100lbs. My body just isn't built that way.
But that doesn't mean I can't be inspired to lose weight and be healthy! I've already been building myself up mentally for my new workout routine once I get the green light from my doctor. I want to get back into running and work on my strength training.
What's the point of all my rambling? Well I've read quite a few blogs that have touched upon this topic. And it really dug up a gem for me- We should be loving our bodies now, loving ourselves now. Not when we lose those last 10lbs, not when we are in a healthy BMI.
If we can't love ourselves the way we look and feel now, who else will?
I'm not saying be complacent with an unhealthy lifestyle. I would never advocate that. I'm saying love yourself enough, whether you want to gain or lose weight, to get yourself healthy. Use self love as motivation!
My girl
Ali at Running W/ Spatulas
has got the right idea- whenever something negative comes to mind about your body, flip it into a positive! Instead of getting down on your hips, remind yourself your hips give you sexy curves! Or instead of focusing on flabby arms (not that you have them!), tell yourself that your arms are STRONG.
What part of my body do I get down on?
Pre-pregnancy, it was my belly. I hated the way my belly stuck out. I always felt I looked pregnant, even though I wasn't (and didn't even comprehend what a REAL pregnant belly looked like!). It was flabby and weak. I had strong legs, loved my butt (yup, I said it!) and even though I gave up my strength training regime after college graduation, I could still see the contouring in my arms. The only thing I was insecure about was DA BELLY!
Now that I'm pregnant and my belly has gotten bigger than ever, I've grown to appreciate my body more. Granted, I would not want to look 8 months pregnant after I give birth, but I can stare at my bare belly and not hate it. In fact, I kinda like it now.
Inside my belly I'm growing a human. Not an ulcer or a kidney stone, but something with a soul and a purpose. This human being inside my belly is meant to accomplish great things and has a purpose for someone, some thing, in this world.
Because of pregnancy, I've found a new appreciation- and dare I say love- for my belly.
Here is what I look like now @ 37 weeks, stretch marks and all. I thought I'd hate the stretchmarks but they really don't bother me. Honest confession- I've had stretch marks on my hips and thighs since puberty. So they're nothing new. But now I have them in the middle of my belly, up above my belly button. And they'll be there for LIFE.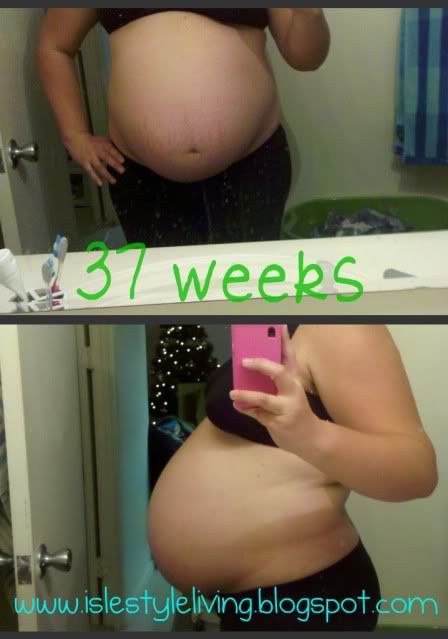 But that's OK.
Because while I may not look like this:
I'm pretty awesome. I grow humans.