Well, it is no secret from
this post
that one of my favorite all time movies is ELF. I can watch this movie everyday! When I watch it, I turn into that annoying kid that says all the lines before the characters. You've been warned!
Another favorite of mine is Eloise at Christmas Time. I've only seen it a few times- and most of that was just in bits and pieces. But the antics of this little girl are borderline annoying and hilarious! I think part of the reason I can tolerate this little 6 year old running around The Plaza Hotel during Christmas is that her charm reminds me of my grandmother, Eloise. My grandma is the youngest of 13 children. From the stories told by her older sisters, she was SPOILED! When her older sister Marian was alive, she would tell me silly stories of my grandma and the trouble she would get into. Plus, I think it's hilarious to hear the characters yell, "ELOISE!!" when she stirs up trouble because I can't imagine someone yelling like that at my grandmother!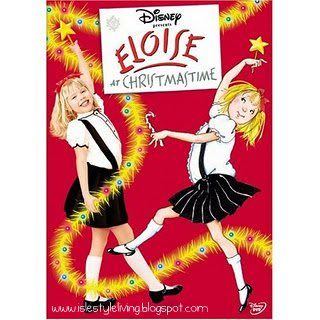 And another favorite? Love Actually.
I love all the characters in this movie. It just warms my heart and makes me feel all giddy inside. It totally pulls on all my heart strings and gets my emotions all worked up. Exactly what I love in a movie!
Can you believe that there is one classic I've never seen? Yes, Christmas' #1 fan has missed out on a classic.
It's a Wonderful Life
Well, this season has just started! It's not too late for me to pick it up somewhere. I'm determined to watch this movie this year.
What's your favorite
Christmas movie/TV special?
Don't forget to link up if you're participating in the Holiday Challenge! Let my followers know who you are =)