For dessert tonight I decided to try something a little different.
I've been inspired lately by Pinterest (duh) and really wanted to make something special for my husband, especially after all his hard work while moving us in (more on that later).
So I took inspiration from a few recipes I found on Pinterest and whipped up this concoction:
Mini Apple Pies with Salted Caramel (served with Vanilla Bean ice cream)
You'll need (all measurements are approximate b/c I didn't measure anything- just adjusted seasonings to taste):
2 medium apples, chopped
lime (or lemon) Juice
1-2 Tbsp. of unsalted butter
3 Tbsp of brown sugar
1 Tbsp of cinnamon
1 package of crescent rolls (or other puff pastry)
1 jar of caramel ice cream topping
Coarse salt (sea salt)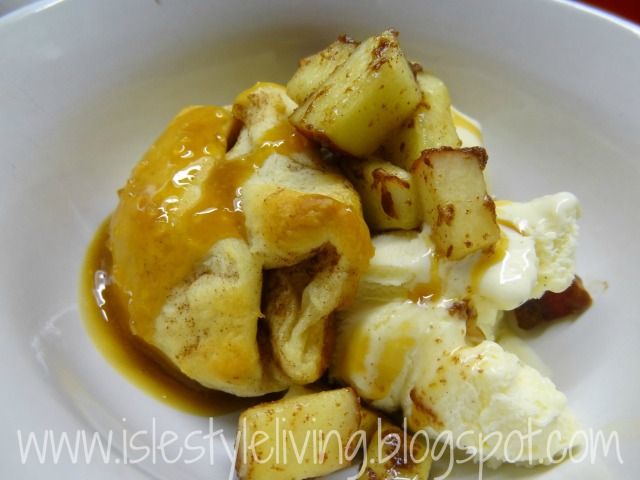 I first chopped up some apples, added a squirt of lime juice (most recipes say lemon but I just used what I had on hand. Couldn't tell any difference).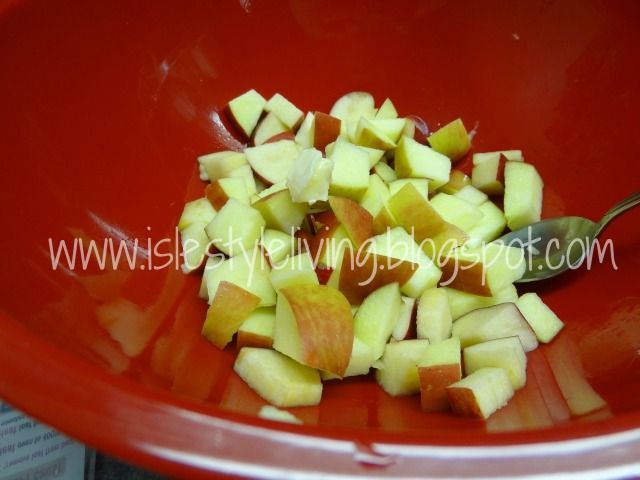 Then I added about 1 1/2 tbsp of butter, 3 tbsp of brown sugar, and 1 tbsp of cinnamon.
The ingredients weren't blending well so I threw them in a small pot and simmered on low until the butter melted.
I like my apples to be real cinnamonny so I added more cinnamon. Be sure to adjust the seasonings to your taste! (And if your butter is unsalted, add a small pinch of salt to bring all the tastes together.)
Next take your caramel and pour about 1/3-1/2 c. into a small pot. Simmer on the lowest of low or else you risk burning your caramel.
Once the caramel is warmed (you can tell b/c it won't be thick), add a generous pinch of sea salt, but I'd recommend no more than 1 tbsp.
It's near impossible to unsalt something if you add too much.
Trust me, I know. My salted caramel came out SALT-Y! I added about 2 tbsp. So just be conservative with it.
You can always add more!
Transfer warm, slightly salted caramel to a bowl to rest, stirring occasionally.
Next, take crescent roll and open up one of the triangle pieces.
Put some apples in the middle and wrap it up!
I tried several techniques and the one that worked best was to roll the crescent dough around the apples and then fold up the ends to seal it in.
Once your apples are all rolled up into crescent rolls (or just rolled up in some odd shape), bake for 10-12 minutes at 325 degrees until golden brown.
Serve with Vanilla Bean ice cream and a drizzle of (slightly!) salted caramel.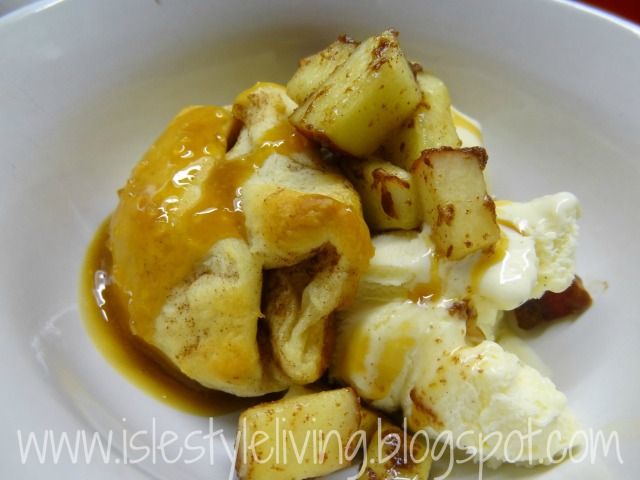 Enjoy!