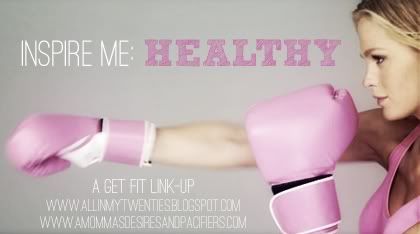 I'm kinda late on this but I'm posting anyway because the timing for this link up couldn't be more perfect!
This link up is hosted by All in My Twenties and A Momma's Desires and Pacifiers. It's for all of us to share our weight loss/healthy living journeys- whatever that may be.
We all have our unique stories to tell, our own unique goals.
Since this is the first day, I thought I'd share a little bit about where I've been and what my goals are for weight loss.
Because I'm lazy and don't want to retell the whole story, here
are some excerpts from
is the exact copy of my "Why Running" page, which explains why I chose a sport that I had no experience in as a way to get healthy.
Here is me at my lightest, 170 lbs (yikes! can't believe I just wrote that...)
AXO Bid Day 2007 @ USD... waiting for the newbies!
And here is me at my heaviest, 218, both pictures taken in Feb/Mar 2011:
UPDATE:
Since starting this blog, I am now the proud momma of a beautiful baby boy. My weight has fluctuated so much since I gave birth.
I lost 10 pounds before finding out I was pregnant. I gained almost 23 pounds but because of gestational diabetes I drastically changed my eating habits and netted about a 12 pound gain. A couple weeks after arriving home from the hospital I had lost a total of 28 lbs since giving birth.
For those of us who are mathematically challenged:
Starting weight: 218
Pre pregnancy weight: 208
Highest pregnancy weight: 231
Ending pregnancy weight: 220
Post pregnancy weight (2 weeks at home): 192
But I have now gained about 20 lbs back- currently at 213.
Not where I want to be, to say the least.
But I know it's time for a change.
Anyone who knows me knows how much I love a good plan. So what's my plan to dropping these pounds and getting back in shape?
Baby steps.
Say it with me, people.
Baby steps.
2 days ago I stopped eating processed sugar.
Cold turkey.
It's been tough, but I am taking it one day at a time. My goal was to get through Wed-Fri at work and I did!
I gave myself permission to have sugar this weekend, if I want.
But now I'm learning how to hold off the cravings, either by distracting myself or by eating a piece of fruit.
It's not easy, but I reached my goal! I said no thank you to cookies, doughnuts, and ice cream at work. Of course the days I give up sugar are the days my co-workers bring goodies to the office.
I also plan to walk during my lunch break. I've done it a couple times but not enough to be consistent or to see any results. Work usually gets super busy or I forget to prep my bags the night before. My mornings are too packed for me to try and get it together.
But once I get a handle on my sugar addiction, I'll add in the lunch time walks.
Once that becomes a habit, I'll have to add in another healthy habit to work on.
One step at a time.