CHRISTMAS DESSERTS/TREATS
Well, the first thing that came to mind was yet another pumpkin recipe.
But I figured I'd spare you all and try something new.
So I scoured boards on Pinterest (You can follow me
here
!) to see what desserts I would like to try out (maybe someone can bake them and bring them over for me? Thanks!)
First up? Marshmallow Snowflakes. I would love to learn how to make my own marshmallows! I heard it's super easy but haven't done much research into it...
And of course Pumpkin Cupcakes! I actually had a recipe for this from a magazine... somewhere around here... I made it and it was delish!!
I also love anything chocolate and mint so these White Chocolate Peppermint Cupcakes are also on my "Need to Try" list.
Followed by Fruit Pizza! I remember one year at my grandmother's house in California (I must have been 7 or 8 years old), my aunt was visiting and made this delicious Fruit Pizza with flattened out cookie dough, cream cheese, and fresh fruits. It was sooooo good!

Also on my treat list? Well, if I wasn't pregnant anyway... Pumpkin Eggnog Martinis and Dark Chocolate Whiskey Cupcakes!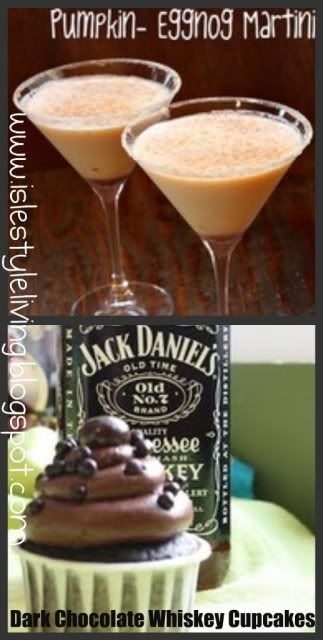 What are your
favorite Christmas Desserts/Treats?
Don't forget to link up your post =)